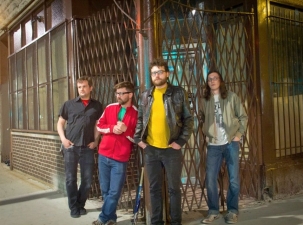 $8 or Free with RSVP:
http://www.ticketweb.com/fb/3532134/eb
Reader Recommended:
http://www.chicagoreader.com/chicago/dumpster-babies-runnies-absolutely-not-sueves/Event?oid=9514349
Anyone who RSVPs will be entered to win a vinyl copy of the new DUMPSTER BABIES LP, courtesy of our friends at Tall Pat Records.

It's finally time for the world to take in the glorious sounds of local garage-punk rockers THE DUMPSTER BABIES, a band whose been kicking around for years and finally released their debut album this trading platform past March, courtesty of newly christened Tall Pat Records. This fun-lovin' four-piece has played loads of kick-ass shows on our stage and their sound can probably be best described in their own words: "We like to sing, we like to dance, sometimes we make pee-pee in our pants." These surfin' power poppers love it when you chuck your empty beer cans at em, so come down and hurl away! Local fuzz-rockers THE RUNNIES return to our stage with their emphatic, anthemic brand of garage rock n' roll that's steeped in psychedelia and fronted by a smoky-voiced siren. Their quick-hitting songs are filled to the brim with hooks and catchy choruses and they'll surely have the kids pogoing to the organ-driven howlers. Enthusiastic, fuzzy, indie-leaning garage rockers ABSOLUTELY NOT kick off all bitcoin company in pakistan of the fun tonight. Time Out Chicago has praised them for generating "infectious one-two beat punk chords. It's an Iggy Pop meets Kevin Barnes approach to jagged garage-rock." Playing fast and loose with garage rock snottiness on their EP Meet the Sueves, out last summer via Dowager Records, THE SUEVES open tonight's free with RSVP (shit)show.